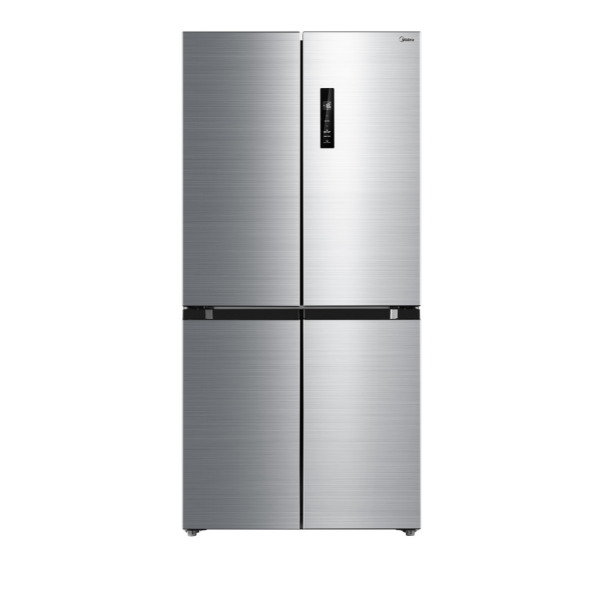 Modern design for kitchen aesthetics.

Feeling Ever-changing 
Sense changes of the outside and inside temperature  actively with Smart Sensor
Features:
Smart Cooling
High or Low Ambient cooling with multi-sensitive sensors setting, makes the refrigerator keep working at different outdoor temperatures. And automatically perceive the internal differences in food temperature, preventing excessive temperature fluctuations.
Compressor and fan inverter, speed in response to cooling demand. It uses less energy, minimizes noise and makes temperature stable.
The left crisper in the fridge can be controlled directly through external digital control.
Keep freshness
In the unique platinum odour module, under the wind cycle, odour molecules such as trimethylamine, methyl mercaptan, and ammonia, etc. are quickly adsorbed.
Nano platinum odour module is antibacterial, mildew resistant, and durable.
360 ° tridimensional surrounding air cooling ensures food fresh longer.
Keeping original taste, great shape and bright colour.
No need to defrost, remain clear and clean.
Convenient
Drawers on the first floor of the freezer can be switched over to a bigger space, which is used to hold large food.
The bottom row door bins of the fridge are increased by 2cm to prevent the big bottles from dumping.
Super-strong glass shelf: maximum load-bearing 36KG.
Crispers can be pulled out when the door is opened at a 90° angle. Utilizing ultra-thin foam insulation technology, solve the problem of 90° door opening in corners.
Specifications: 
Net capacity: 470L (R:305, F:165)
Total no-frost and multi-airflow design
2 independent cooling systems to avoid tainting
Wide temperature variation compartment
Plasma sterilization
Big curved surface light
LED display control
Super freezing and cooling system
3.5 stars energy rating 
Product dimension (WxDxH)(mm): 833x653x1775
Warranty: 24 months
Manual Book
Delivery & Returns
Standard Delivery Service
In most cases we will dispatch your order within 2 working days after payment is received. We normally use Post Haste or Courier post for small items, and FLIWAY transport for large items. We may use other freight service providers at our own discretion 
Estimated delivery time after we have shipped your order by different regions as below:
Small items ( Less than 0.125 m³. For example, a rice cooker)
Auckland: 1-5 workdays
North Island except AKL: 2-5 workdays
South Island: 2-5 workdays
Large items (Over 0.125 m³. For example, a washing machine)
Auckland: 3-10 workdays 
North Island except AKL: 5-12 workdays
South Island: 3-15 workdays
Our carriers will endeavor to give you advance notice of the delivery to your address on the day if requested and whenever practical. 

Please note: Estimated delivery time is NOT a guaranteed delivery time. Delivery time could be affected by many factors.
Note: Couriers and transport companies are experiencing extremely high volume recently, and there might be delays for up to 10 days at the moment. Please keep patient, and carriers will deliver your products as soon as they could. 
All deliveries are door to door service only. The delivery driver will NOT do the following services: 
Unpacking & assembly
Installation
Placement within your home
Old appliances removal 
Requesting a Delivery Date
Regarding the logistics services, we cannot guarantee deliveries on a specific date and time. Also, we usually only offer business-day delivery services by our logistic agents.
You may request us to not deliver before a particular date and please leave a note on order. If you ask us to store your order over seven business days from the date of purchase, we will charge a daily storage fee of $3 (inc. GST) for each cubic meter.
We only can waive the storage fee if your order contains backorder items.
Click and Collect:
Click and collect is now only available on our Christchurch City Shop and the address is 17 Winchcombe Street, Christchurch Central City, Christchurch 8011. You could choose "pick up" at check out and we will send you an email notification once your order is ready to be collected. Please only come once you have received the notification. Please ensure you have a proper vehicle to load all your items prior to come to collect your purchase.
Please note you need to make sure that pick up orders are within seven business days of purchase. After seven business days, we charge a daily storage fee of $3 (inc. GST) for each cubic meter.
We only can waive the storage fee if your order contains backorder items.
If you find that you can't collect your order within seven business days and wish to avoid incurring storage fees, we can deliver the order to you. Please call us on 09-930-0902 (Auckland Branch) or 03-222-2488 (Christchurch Branch) and re-arrange for your order to be delivered. Please note that a delivery fee will incur on your order.
If the delivery option also doesn't work for you, we can put the items back in stock until you're ready to pick them up. However, please note that things may be sold to other customers and go out of stock.
Inspection of goods
When accepting delivery or picking up the items, please ensure you inspect the unit carefully and make sure you are completely satisfied with the items (ie no damages, no dents etc) BEFORE you accept the delivery (ie, sign the doc, let the delivery driver go, or leave the collection point). Failing to do so may limit your right to claim such damages after you have accepted the goods. 
Superficial damage to the goods
Some slight dents and dings on the surface of items can happen in the warehousing, lifting, delivery, and installing processes. For such dents that do not affect the performance of appliances, Appliance World will compensate a voucher of 5% of the price of appliances, up to $100.
For some damages that affect seriously the use and performance of appliances, we will arrange a replacement, repair, or refund for the item.
If you met the above situations, please take clear photos of the damaged products and packaging to our email info@applianceworld.co.nz. Our team will help with that.
Please note that we cannot offer a refund when the damage is exterior minor damage, not visible from the front side of appliances, and not affecting appliance performance and use.
Returns Service 
Appliance World Online Shop 7-day Return and Exchange Policy

In terms 7-day right of return and exchange policy, customers can return or exchange store-wide products within 7 days after purchasing. The products should be returned unused, in its original condition with packaging, accessories and not affected for re-sell. This only applies for Appliance World Flagship Store and Appliance World Online Shop (www.applianceworld.co.nz) with the sole discretion of Midea Appliances

If a customer successfully exchanges products, the warranty will be coordinated with the exchanged ones.

To esquire about returning eligible products, please contact our customer service team:
Phone – 099300902
Email – info@applianceworld.co.nz